We work with various different fabrics, and we love experimenting. But we would like to give you an idea of some of the fabrics we encounter very often.
Once referred to as 'White Gold', cotton is a soft, staple fiber that grows around the world. Cotton dates back to 5000 years and is still one of the world's most popular fabric choices as it is sturdy, styling and completely eco-friendly and biodegradable. It's not surprising that the bags made from cotton are considered the most stylish products today. This might be a little more expensive but will give you a much more luxurious end result.
To suit your specification cotton (in various weights) can be dyed to match pantone. All you have to do is supply us the pantone number (coated / uncoated) and have fabulous coloured bags. Heavier cotton is often referred to as Canvas. The regular cotton canvas weights we work with are between 3 oz to 20 oz (100 gsm to 680 gsm) and the most popular are 3 oz, 4.5 oz, 7 oz, 10 oz and 18 oz.
We also offer you the option of organic cotton. We buy our organic cotton from GOTS certified suppliers only and will give you a certificate of the organic fabric from the cloth manufacturer as well.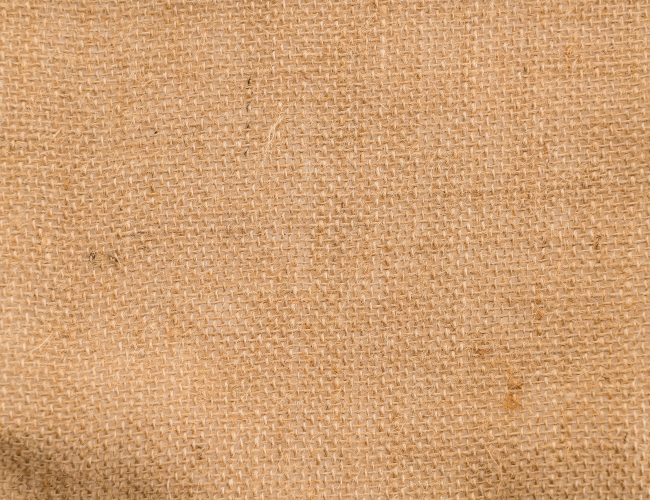 Popularly known as the 'Golden Fibre' just is second only to cotton and is considered to be one of the strongest of all natural fibers. Jute in itself is organic because it requires very little artificial intervention while growing it.India is the largest producer of jute in the world. Jute has many inherent advantages like luster, high tensile strength and moderate heat resistance. Along with being biodegradable and eco-friendly, it has many advantages over synthetics.
We love both cotton and jute so much that we just had to put them together and here's what we got; a beautiful, elegant and sturdy fabric that we like to call Juton! Juton combines the best of both worlds – the strength of jute and the softness of cotton. This fabric is also called Juco fabric, except that the Juton we produce is specially woven for our customers.
Upto 40% of cotton grown is wasted between harvesting and manufacturing. Further, cotton scraps of various fabrics are wasted at the time of manufacturing. Fabric made out of these types of waste cotton is called recycled cotton. We are proud to be able to offer this 'greener than green' fabric to our customers. Can you imagine a world in which all fabrics had a second life? Start here now!
We also work with different fabrics like denim, polyester, faux leather, leather, nylon and satin.
Like anything you saw? Would you like us to find anymore fabrics for you? Drop us a line below and we'll do our best to get them for you!