A large part of getting the bag right is getting your custom printed logo on your cotton/jute tote bag. Feel free to drop us an email on info@norquestbrands.com to discuss your printing requirements in-depth. But just so you know, here are a few types of printing techniques we use often (can't see the one you want, don't worry, drop us a line and we'll find it for you)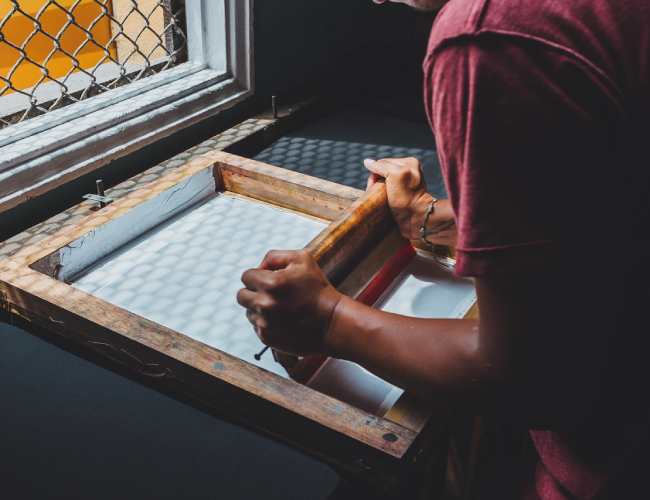 Spot/Screen Printing
The most popular and economic form of printing is called screen printing, where pigment inks are passed through a mesh screen on to the fabric and allowed to dry. The colours appear crisp and vibrant. This technique is best for logos, messages and other artwork that has distinctive lines and colours. It works beautifully on all fabrics. This is our most requested type of printing.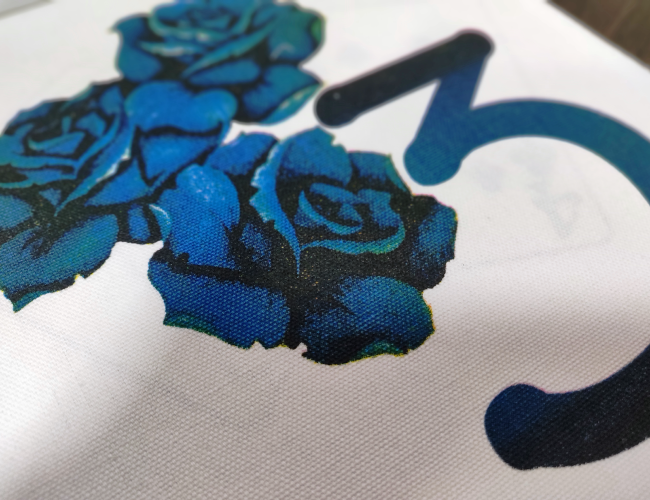 Process/CMYK Printing
A slightly more complex version of this same printing is four colour process printing. Here the mesh of the screen is finer and only four colours, Cyan (C), Magenta (M), Yellow (Y) and Black (K), are used in an overlapping manner to create a print with many colours grades and shades. For best results this should be done on light coloured fabrics.
Pearl and Glitter
Other effects that can be achieved using screens are pearl and glitter printing. The pearl finish gives a lovely lustre effect to the colour of your choice and makes it stand out. Glitter printing as the name suggest is print with glitter particles in it. It looks very decorative and can be used to highlight your artwork. Very thin lines will not work well with these techniques.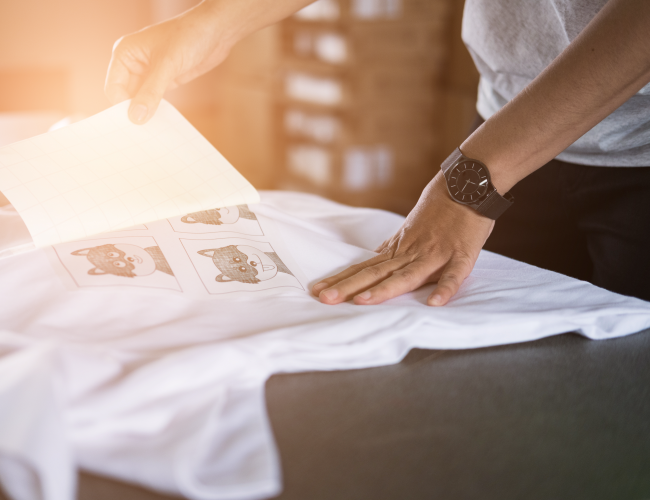 Transfer Print
This is a very good option for multi colour, full colour or photo quality printing. The artwork is printed on paper and then heat transferred to your fabric. The results are bright and clear. Treated carefully, they will last a long time. The biggest advantage of this form of printing is that it is ideal for short runs and can be done fairly quickly.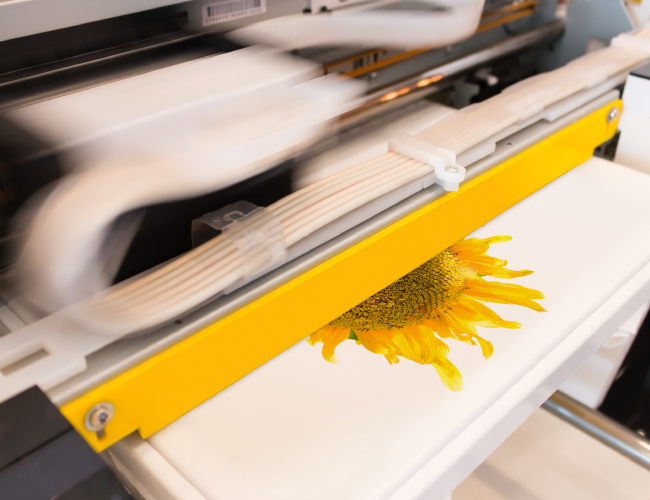 Digital Printing
This form of printing is almost the same as printing on paper, it uses micro-sized droplets of ink that are placed onto the fabric through an inkjet printhead. It allows for photo quality printing on fabric. Unfortunately, it doesn't show very bright on cotton, but if you are working with a poly-cotton blend or a polyester fabric, the printing will be brilliant.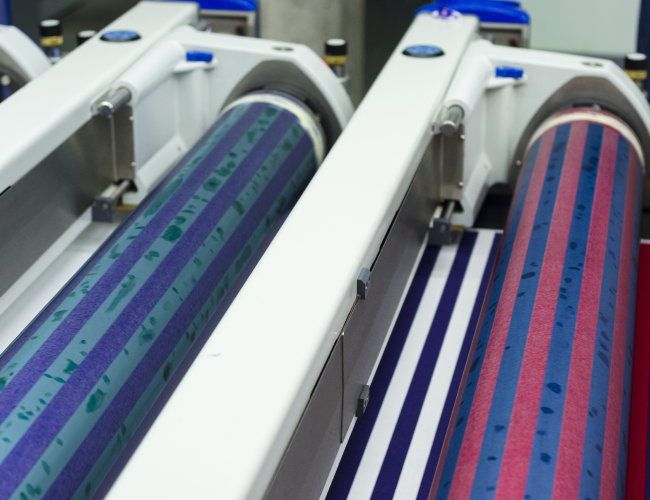 Rotary Printing
This is another form of screen printing that works for higher quantities (20,000 meters and above). Here unlike manual screen printing (piece printing), the whole roll of fabric is printed on machine thus making it the most economical form of printing for higher quantities and colourful artwork. Here the mesh of the screen is finer and upto 12 colours can be print. The beauty of this form is printing is that the half tone print can be easily achieved. The colours appear crisp and vibrant. This technique works on all cotton variants.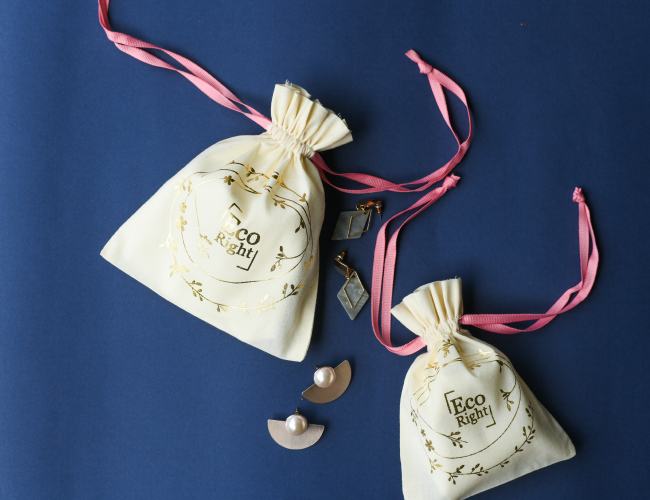 Foil Printing
If you are looking for a really shiny effect on a natural or bleached or dyed fabric, then foil printing is the option for you. Screens are used to apply a layer of glue in the shape of your artwork and then a sheet of foil is placed on top, heated and the excess removed. What gets left behind is your artwork in a shinny metallic finish. It's a very tricky process and has many limitations, but looks very good.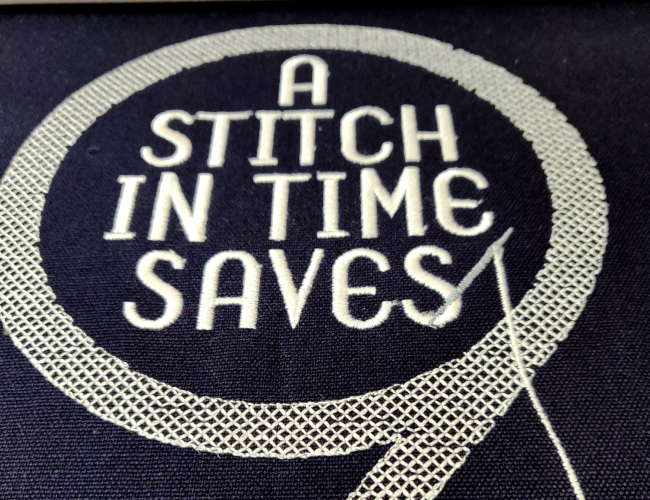 Embroidery
An embroidered logo or an artwork can add a lot of value to your product. It doesn't even have to be the whole artwork, you can use embroidery to highlight bits of your design. The 3 dimensional effect stands out and look elegant. You can embroider your art directly onto your product or you can create patches which can be affixed to the product to make it look very different.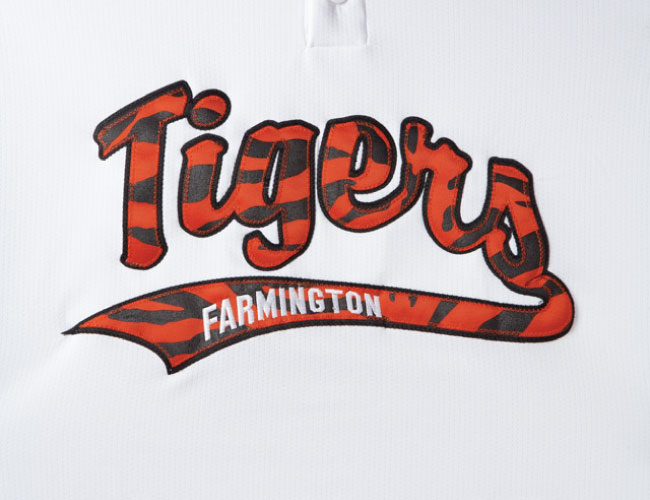 Applique
Embroidered patches, printed cottons, felt; these are just some of the options you have to create an applique. These can be attached to your products in unusual manners to create a very unique look. This is a great option to explore if you have a product that needs subtle yet unusual branding. Its also convenient if you have multiple products and want to retain consistency.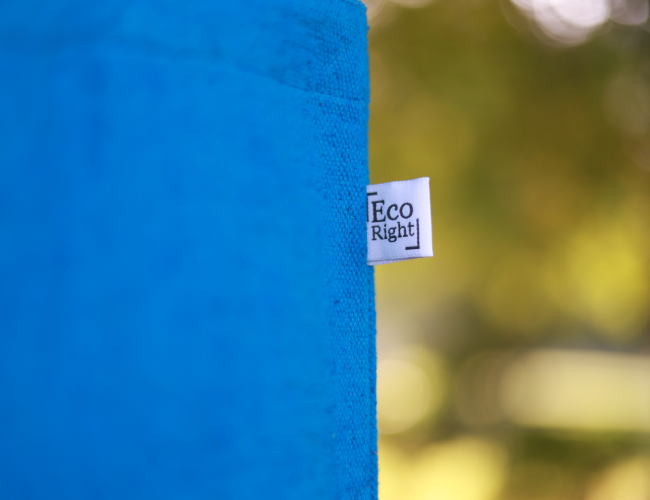 Labels
The ultimate form of simple and effective branding is fabric labels. Either woven or printed, they can be created to fit anywhere onto your product. It ensures your name is well placed but doesn't take away from the design or impact of the product itself. Other options are leather, metal, wood or even cotton patches. Use multiple methods for best effect. We can print upto 12 colours and can offer an edge to edge printing option.